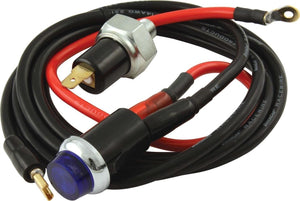 Water Pressure Light
Water Pressure WARNING LIGHT
Sensor installs in 1/8" NPT port (See water "T" Fitting with additional 1/8" NPT port to easily plumb this into your top radiator hose.
4 psi
1/8 in NPT Male
Light / Sender / Wiring
This light will tell you when you lose water pressure. For instance a hose is leaking or blows off, this will tell you when the cooling system loses pressure and you can shut the motor off before overheating it and potentially wrecking the engine. This is a must have! When you lose a hose the temperature gauge will not read.. so you have no way of knowing the engine is running hot with NO water. This warning light will signal you and help from cooking a motor!