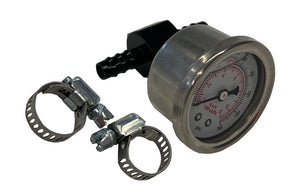 Fuel Pressure Gauge
In-line fuel pressure gauge. 
This easily installs anywhere in the fuel line, includes two hose clamps.
* If your car seems short on power or missing more then likely it is fuel related. Use this in-line fuel pressure gauge to easily check for proper fuel pressure. Suzuki recommends 36-40 pounds of fuel pressure.