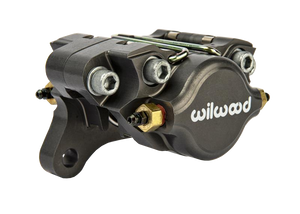 Brake Caliper
Info
The Dyna Pro Single (DPS) billet caliper is the newest generation of calipers available as an upgrade or replacement for applications previously using the Dynalite Single (DLS) series. DPS calipers combine superior strength with performance enhancements to make these the best "Dyna" series calipers ever.
The DPS is loaded with exclusive Wilwood performance enhancements. The calipers feature Quick-E-Clip pad retainers that support a 6812 type brake pad from the top. In addition to past pad service without caliper removal, the feature provides substantially stronger retention over the single Quick-Clip pin and 7012 type pads used in the previous DLS models.
Quick-E-Clip pad retainers supports brake pad from top
Heavy wall stainless steel pistons
Stainless steel SRS bridge plates eliminate pad rattle and dampen vibration
Internal fluid passages
Four corner bleed screws allow mounting in any front, rear, left, or right side position
Item Details
3.25" mounting center, .380" rotor
Installation Tips
Note: The Dynalite brake pad does not fit the new Dyna Pro caliper. The Dyna Pro brake pads do fit the Dynalite caliper.
Specs
Piston Count:  2
Piston Bore:  1.75"
Area (in²):  2.40
Rotor Dimensions:

Rotor Width:  0.38"
Minimum Rotor Width:  0.25"
Rotor Diameter:  6"

Pad Dimensions:

Pad Area (in²):  3
Pad Volume (in³):  1.1

Mount Type:  Lug
Mount Side:  Universal
Mount Hole Size:  0.39"
Mount Height:  1.92"
* Caliper ONLY, NO Brake pads included.